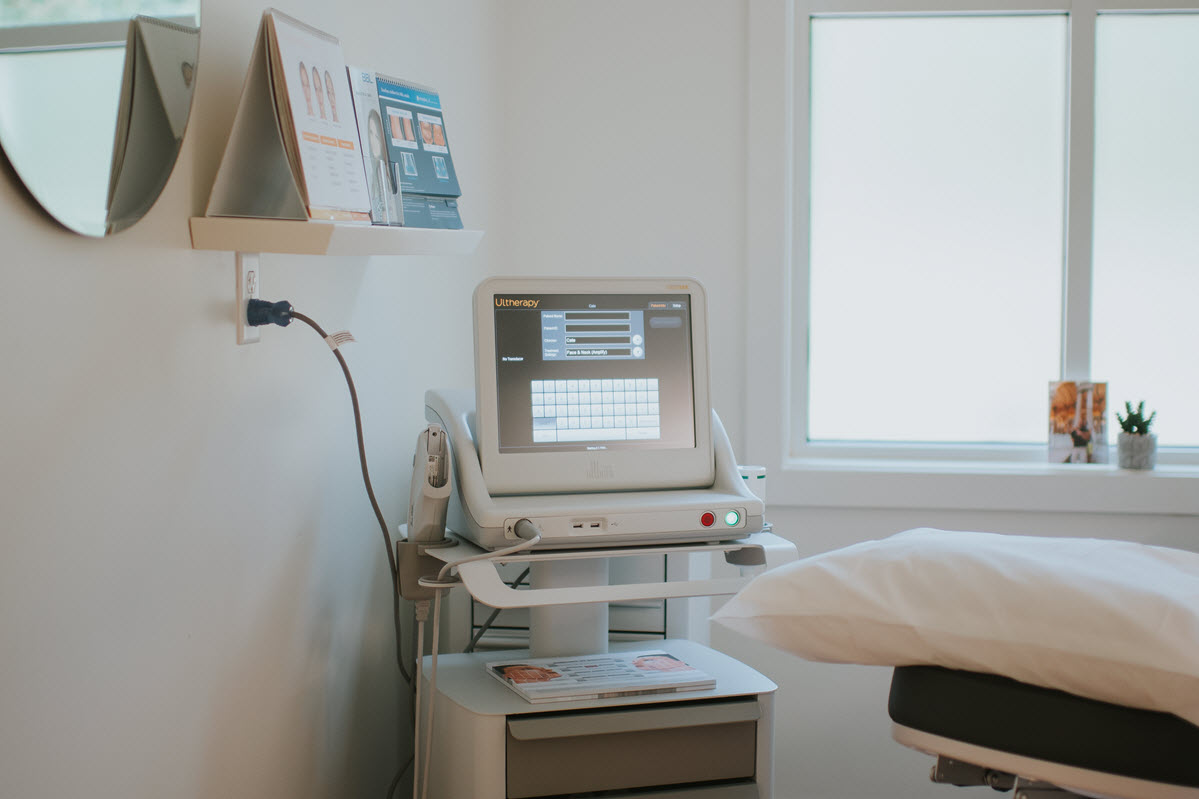 Ultherapy® – Non Surgical Skin Tightening in Grand Rapids
At Renewal we offer the latest Ulthearpy machine and software for added comfort and improved results. Ultherapy® is an FDA-approved treatment that uses a high-intensity, focused ultrasound to reach the deep structures of the face and neck to lift and tighten. It is the gold standard in skin tightening. Ultherapy® is a safe, highly studied, non-invasive, and is a non-surgical skin tightening and lifting treatment. It is through the body's natural healing process that your facial structures will tighten over the next 2-9 months. This gradual process leads to a more natural and younger looking appearance. When administered properly by a experienced provider, Ultherapy has little discomfort and can be further alleviated with the use of topical numbing cream and one of our multiple Pro-Nox™ (nitrous) units for comfort.
Ultherapy® is ideal for someone looking to take control of their face and neck with a non-surgical treatment. Ultherapy® helps battle the aging process by lifting, toning, and tightening as it targets the deep layers of skin.  Ultherapy® is ideal for patients who are not good surgical candidates or who are wishing to avoid the risks, cost, and downtime associated with facial surgery or simply looking to prevent and fight the effect of aging and gravity.
Ultrasound technology is the same device used for imaging pregnant women. It is a smooth hand piece that glides along your face and neck. With the ultrasound, the experienced staff at Renewal are able to visualize the deeper structures of your face and neck and deliver with precision a beam of high-intensity, focused ultrasound energy. This energy causes an inflammatory response. The response causes new collagen growth that tightens and lifts facial and neck structures gradually. The gradual change allow for a "natural" improvement in your appearance. Skin is more youthful and better positioned after the treatment. Ultherapy® will lift the brow, which in turn, decreases the appearance of the excess skin on the eyelids, opens up the eyes, and gives a more refreshed, rested appearance. Ultherapy® is the only FDA-approved device on the market for tissue lifting.
Combine with Pro-Nox™ – an inhaled, patient-controlled analgesic to help you feel better during your Ultherapy® treatment. Pro-Nox™ is a mixture of 50% oxygen and 50% nitrous oxide that offers immediate pain relief, anxiety management, and a calming effect. Pro-Nox™ has been FDA approved for use in patients during procedures and has a very quick recovery time.
Questions? We have answers.
If you're considering Ultherapy®, please schedule a free consultation by calling us at Renewal Skin Spa: 616-940-1177 or click to contact us.