Micro-blading
Microblading also known as eyebrow embroidery is a great way to help achieve the worry free look you are wanting in your daily routine. We offer only Phi Brows®, and use the highest quality of tools and inks. Our Phi Brow® artists would love to meet with you to answer any question you may have and to make sure you are a candidate for Microblading.
We apologize for the wait time to get into Angela's schedule. Angela has had overwhelming demand from clients requesting appointments for microblading. Renewal is excited to offer an additional artist to our team. Jessica is PhiBrow certified and would be happy to meet with you to discuss your brow needs.
Our artists have exercised advanced knowledge in creating eyebrows on clients with no eyebrows (alopecia, over tweezing, post cancer treatments) , thin or sparse eyebrows, to just wanting a little more in order to help you save your valuable time of drawing them on or filling in daily.
Other eyebrow services:
•Shading (shading the eyebrows can creates a natural looking eyebrow liner look furthering the worry free look). A lighter to darker effect.
•PhiRemoval® (PhiRemoval is a treatment to remove current eyebrow permanent or semi-permanent makeup so we may give you the brows you desire)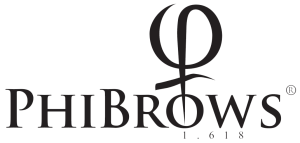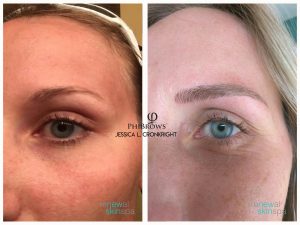 *Individual results may vary
Visit us on Instragram for more before and afters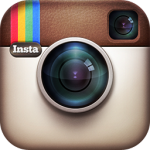 Renewal Skin Spa is excited to be the first Microblading facility in greater Grand Rapids. Microblading also known as eyebrow embroidery is one of the hottest treatments to hit the 21st century. This procedure is a semi-permanent cosmetic make-up  that can dramatically correct or fully reconstruct lost eyebrows. Eyebrow Microblading is performed by depositing  pigment under the top layer of the skin which leaves crisp visible hair strokes for everyone to compliment. The Microblading approach involves drawing individual, clean hair strokes that are much more natural looking which blend with your current hair patterns, hair thickness and hair color. This procedure requires a blade 3 times smaller than that used with traditional tattoo machines. This allows for thin precise lines; like those of your natural eyebrow hair. The procedure is virtually painless and well tolerated.
Why choose us?
• Angela and Jessica have trained under various Phi Brows® Master artists and our artists have performed over 500 microblading procedures on clients combined, giving us the experience you deserve.
• Angela has trained directly under the one of the creators of Microblading himself (Branko Babic).
• Angela has attended and holds a certificate of Phi Brows® Perfection training with Branko Babic.
• Angela is PhiBrow trained in brow shading to create a lighter to darker flow of brows.
• We only use the highest quality of tools and inks to help ensure a safe procedure.
• Our providers were trained in the most rigorous technique of Microblading. Phi Brows® only allows you to use their name once you have demonstrated thorough and precise technique and the use of the certificate can be revoked if you do not demonstrate continued advancement in Microblading.
• We are all Blood Borne Pathogens certified and follow strict OSHA, HIPAA and MIOSHA guidelines.
• We provide a thorough in depth consultation to educate you on any of our services provided.
• We always strive to give you the results you are looking for by taking our time to make sure they are done to the highest of standards.
• We make you a full part of the initial measuring and drawing of the brows, making sure you are happy with the position, arch and shape prior to beginning the procedure.
• We can remove your current permanent or semi-permanent eyebrow tattoo (PhiRemoval®) giving us the ability to start with fresh skin to provide you with the brows you are looking for. We have chose to provide this service as we would not do microblading over previously microbladed brows by other facilities or artists. Microblading over previously tattooed brows does not allow us to give the highest standard of brows we are known for. Now you may simply choose to have your previous microblading done elsewhere removed prior to us giving you the brows you deserved in the first place.
Ready to say goodbye to the daily routine of perfecting your eyebrows? Now you can wake up everyday with great eyebrows.