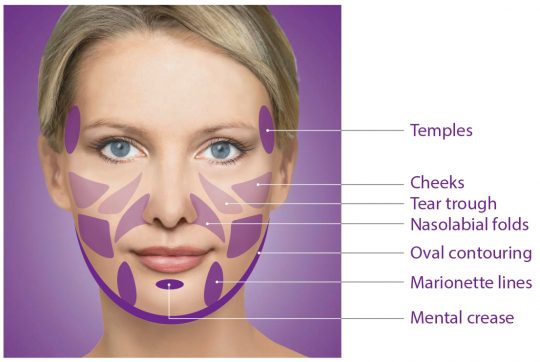 Sculptra Treatment at Renewal Skin Spa
Everyone has been talking about Sculptra for a more youthful appearance in the face and radiant glow. Treatments provide fuller, smoother, more even skin. Sculptra is also well known for butt lifts and butt enlargements. If a Brazilian Butt Lift (BBL) is not right for you, we can help enhance your booty with Sculptra injections. Achieve the best Sculptra results by experienced providers here in Grand Rapids, all without surgery.
Sculptra injections are an FDA-approved injectable that's used to treat mild to severe facial wrinkles. Unlike other injectables that fill wrinkles, Sculptra is made from a poly-L-lactic acid that stimulates the body's natural production of collagen over time. The treatment typically involves three injection sessions over the course of three to four months, and results can last for up to two years. Sculptra helps your body boost lost collagen for a brighter, younger, fuller appearance. Sculptra is FDA approved to last around two years, but your stimulated collagen can last much longer once generated. Sculptra can provide natural-long lasting results while helping maintain your youthful glow.
Which areas is Sculptra used?
What is Sculptra Butt Lift?
Sculptra is a non-surgical butt lift augmentation designed to enhance the shape of your butt and achieve your desired look. This treatment uses the body's own rejuvenation response to gradually increase your buttocks, reduce cellulite, and boost your self-confidence.
Is Sculptra Butt Lift Right For Me?
Sculptra buttocks augmentation works to add volume and improve the overall look of your bum. If you want to increase the size of your bottom but don't want plastic surgery, or want to avoid a long recovery time, then Sculptra injections may be for you.
This procedure accentuates your curves by:
Increasing the volume of your buttocks
Promoting collagen growth to tighten the buttocks
Reducing fine lines, wrinkles, and cellulite
This non-surgical buttock injection works to enhance the shape of your butt and is the perfect alternative to surgical butt implants. However, this treatment is meant to gradually increase the buttocks to give you a more"natural" look and feel. For faster results, couple Sculptra with Exilis on the buttock.
Questions? We have answers.
If you're considering Sculptra, please schedule a free consultation by calling us at Renewal Skin Spa: 616-940-1177 or click to contact us.