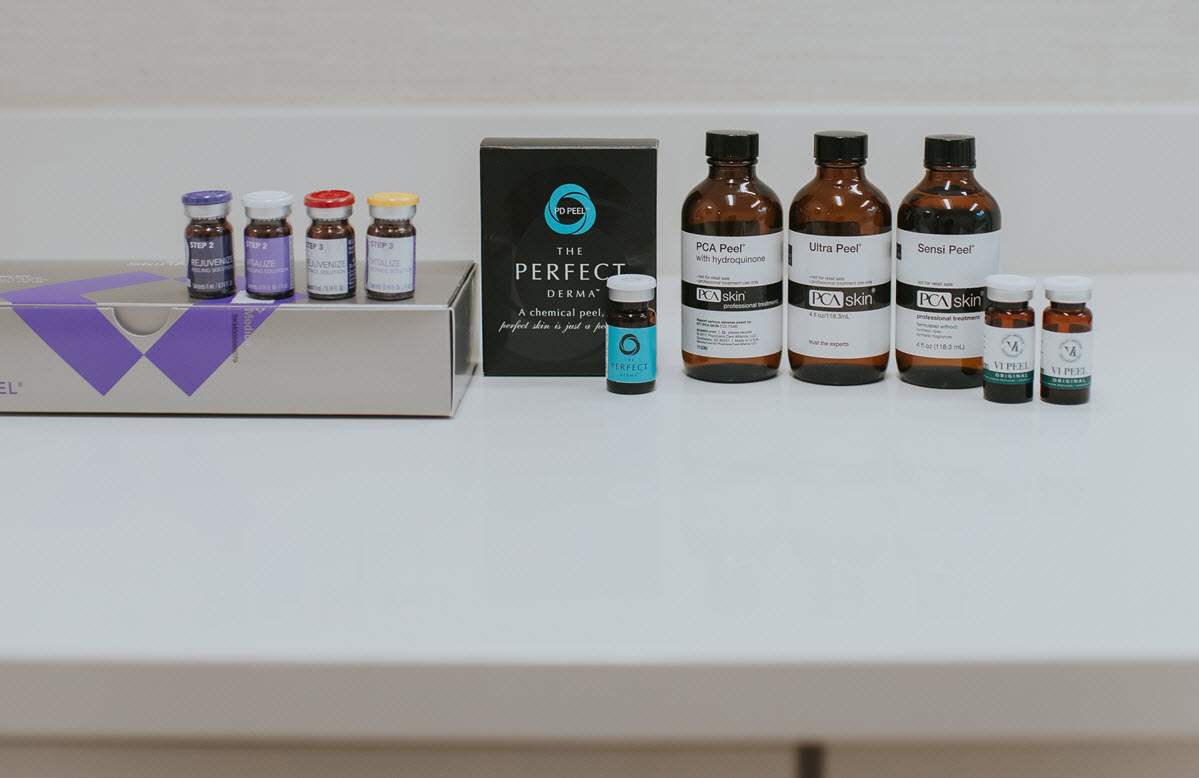 Skin Rejuvenation through Custom Blended Exfoliation. Safe & Effective / Minimal to No Downtime / Noticeable Results
Chemical peels have long been used as skin rejuvenation procedures; tried and true. At Renewal Skin Spa your chemical peels are custom blended – just for you! One of our highly trained master aestheticians will assess your skin and create the perfect combination for optimal exfoliation or peeling results dictated by your allowed downtime. In one of our aesthetician's hands, chemical peels can safely address many common skin concerns. Chemical peels are used for the treatment of sun damage, fine lines, wrinkles, scarring, acne, rosacea and discoloration. They can promote the growth of new skin plus collagen with an improved texture, tone and radiance that may be noticeable in as little as a few days. Our master aesthetician's can customize a plan that suits your needs and or busy life style.
Lighter chemical peels are an exfoliating treatment that rely on fruit acids, herbs and antioxidants to loosen the "glue" that binds dead cells to the skin's surface.  These chemical peels increase the production of collagen, improve the appearance of acne, rosacea, environmental damage, hyperpigmentation, lines and acne scarring. The result is smoother, tighter, more hydrated new skin. Chemical peels will ultimately leave you with a clearer, more youthful complexion. A series is recommended to achieve optimal results.
A deeper chemical peel involves the application of medical grade acids to remove the damaged skin layers in order to produce a more youthful appearance. A healing response rebuilds new skin that will also trigger collagen formation so the skin is healthier, tighter and more elastic. Deeper chemical peels help resolve wrinkles, acne scars, texture and tone with more dramatic results. In most cases only a few are needed for significant improvement but require a few more days of minimal down time.
Questions? We have answers.
If you're considering Chemical Peels, please schedule a free consultation by calling us at Renewal Skin Spa: 616-940-1177 or click to contact us.