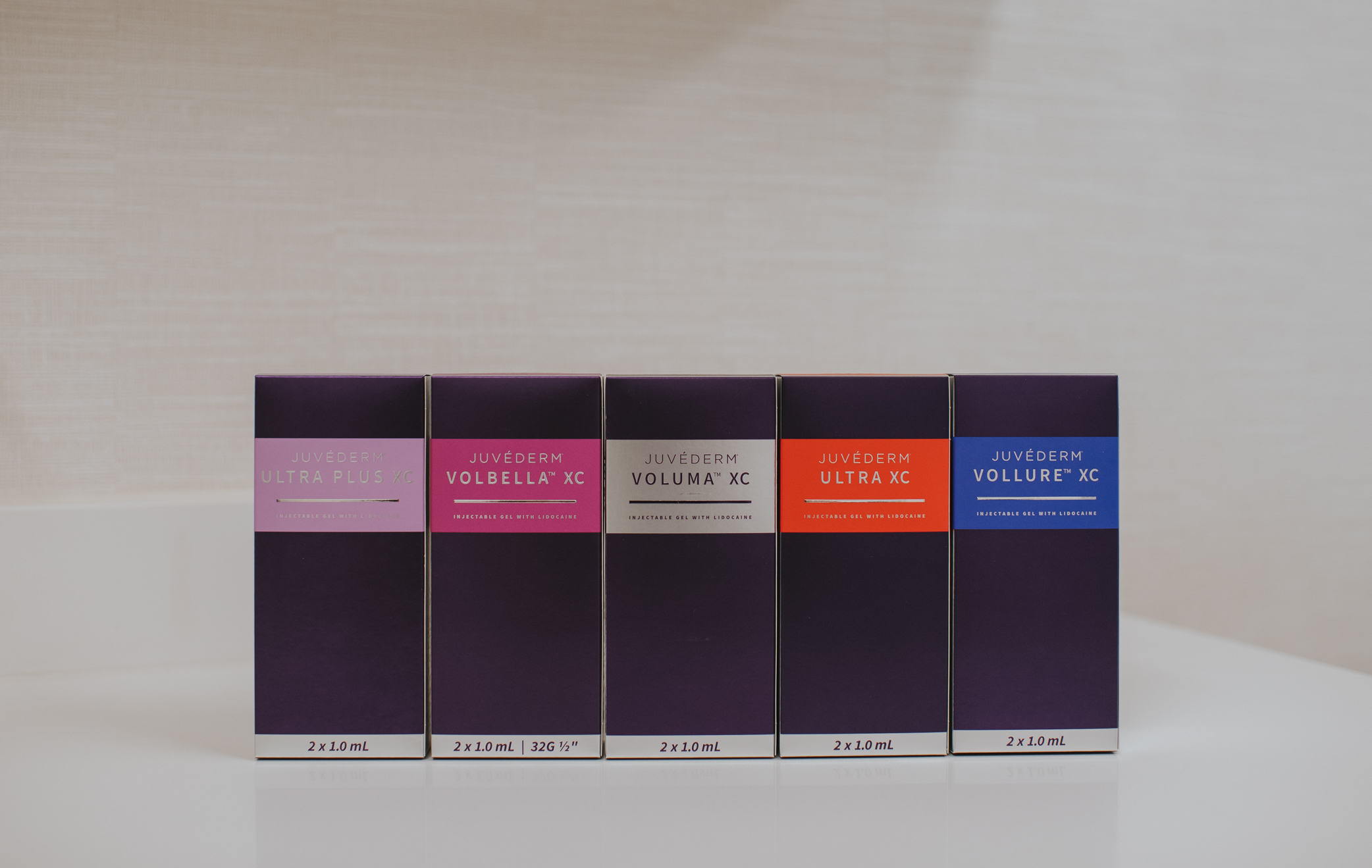 JUVÉDERM® XC, also known as hyaluronic acid is a basic element in connective skin tissue which helps provide volume. It is also found in bodily fluids like spinal fluid and the eye's aqueous humor. Hyaluronic acid has a hydrophilic quality–it has the ability to draw and hold water. It helps to nourish and moisturize the skin. Unfortunately, hyaluronic acid in the skin, like collagen, diminishes as we age.
The success of hyaluronic acid depends on its natural source and on its ability to attract water. Because it is natural, it integrates smoothly into the skin with minimal side effects. Most people experience only minor swelling. It is also harmlessly absorbed into the body over time. However, it gives long-lasting results because, as some of the hyaluronic acid is absorbed, the remaining amount retains its volume by binding water. This allows hyaluronic acid to give long-lasting results that remain nearly constant for the entire period.
As we age, our skin changes. Over time, the natural volume of youthful skin begins to diminish as wrinkles and folds form. But, with JUVÉDERM® XC injectable gel, you don't have to just sit back and let it happen! Approved by the FDA, JUVÉDERM® XC injectable gel is a "next-generation" dermal filler. The smooth consistency gel can help to instantly restore your skin's volume and smooth away facial wrinkles and folds, like your "smile lines" or "parentheses" (nasolabial folds—the creases that run from the bottom of your nose to the corners of your mouth).
Why JUVÉDERM® XC at Renewal Skin Spa?
It's long-lasting.

We offer the full family of Juvederm products. Including Voluma, Volux, Vollure and Volbella. Juvederm ultra and ultra plus are also available.

It's smooth and comfortable.

JUVÉDERMS® unique manufacturing process (HYLACROSS™) creates a smooth-consistency gel that flows easily into the skin and provides a smooth, natural look and feel—so everyone will notice (but no one will know)!

JUVÉDERM® XC injectable gel is formulated with lidocaine.

A common anesthetic used to improve the comfort of treatment.

It's safe and effective for all skin types.

JUVÉDERM® injectable gel is the first FDA-approved hyaluronic acid dermal filler that has proven its safety and effectiveness in persons of color. Studies with JUVÉDERM® showed no increased risk of hyperpigmentation or hypertrophic scarring in patients of color.

It's personalized.

One size doesn't fit all when it comes to wrinkle treatment. A customized treatment plan is important for achieving the best results. That's why JUVÉDERM® XC is available in two formulations—JUVÉDERM® Ultra XC for versatility in contouring and volumizing facial wrinkles and folds, and JUVÉDERM® Ultra Plus XC, a more robust formulation for volumizing and correcting deeper folds and facial wrinkles. This allows our healthcare professional to tailor treatment to meet your unique needs.

The #1 selling dermal filler in the U.S.

We are a Top provider of Allergan Products.
Sign up for Alle® to earn points which are redeemable on select Allergan products such as BOTOX® Cosmetic. Alle® is the only program that rewards you with points to redeem toward instant savings on Allergan facial aesthetic treatments and products, such as:
Participation is easy.  Just register online at alle.com and start earning points toward savings on your next Botox® Cosmetic, Juvederm®, Voluma®, Volbella®, Kybella®, Latisse®, CoolSculpting® or SkinMedica® skincare purchase. Every time you purchase an Allergan skincare product or anti-aging treatment, points will be added to your account for instant savings on your very next purchase.  And the benefits don't stop there!
Questions? We have answers.
If you're considering  JUVÉDERM® XC, please schedule a free consultation by calling us at Renewal Skin Spa: 616-940-1177 or click to contact us.